Finding a good audio player is not an easy task for any true music admirer. While the average user can listen to music even through a standard player and get a lot of pleasure from it, for the advanced music fan of high-quality sound, such an option is not suitable at all. Melomaniacs are always in search of something that can surprise and delight them with new shades of sound.
This is particularly true for people who listen not just to pop music but to something that really requires a high-quality format of playback, for example, jazz or classical music. If you are one of those individuals who are concerned about such problems – be sure to install the Jukebox music player on your smartphone!
The main features of the application
Jukebox is a player that opens up the possibility not just to listen to music in high quality but to listen to it online without downloading it to your device. This is useful for many reasons:
You don't need to constantly download new tracks to your smartphone. You can always find the songs you want on the web and listen to them without clogging the memory of your device, without getting lost in the saved files, and without wasting time searching for and deleting what is already boring.
There are phones without a lot of memory, so in the hands of a musician, they will work with greater efficiency. Since quality tracks "weigh" sometimes as much as 30 MB, downloading several hundred tracks means using gigabytes of precious space.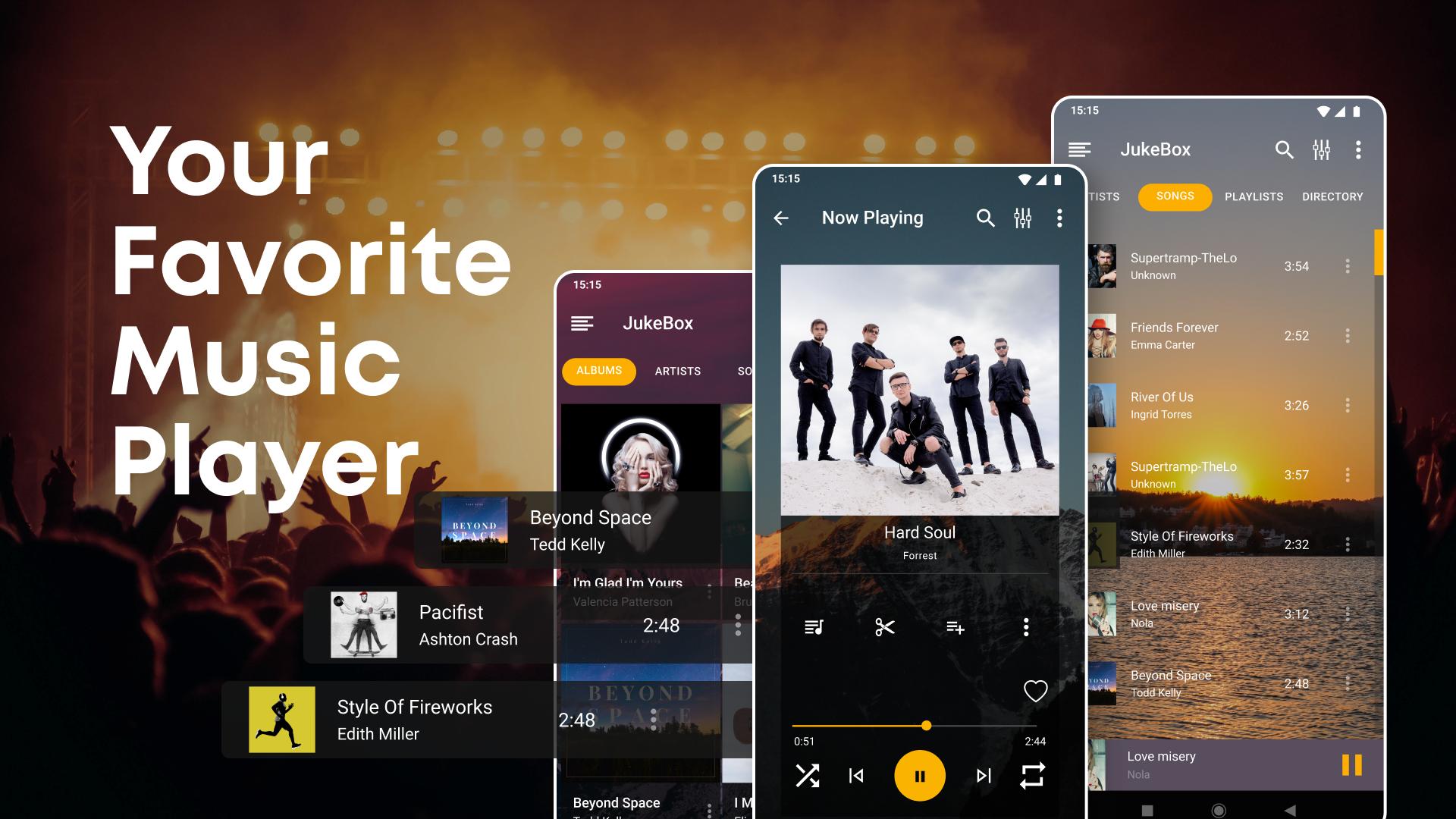 Jukebox takes these problems away from you. It is an online player that offers the following key features:
Simple design. If you like the glamorous design of applications – Jukebox will disappoint you a little. Here every detail is very simple. The design is not even minimalistic. Everything is easy and accessible to the user's perception, as the main goal – is quality sound playback, not the enjoyment of the app design.
Easy control. All of the user's tracks are divided into four main categories: albums, artists, songs, and playlists. This is convenient and simple. The developers have not invented anything unusual and just made it so that the user can easily find the necessary tracks.
You can download music. If you want to save some tracks on the device, you can download a song. You can download several files at once. The process will be done in the background without stopping the playback of the current song.
The search button allows you to easily find the artists and songs you are interested in. The search is conducted through an extensive database of files, so with a high probability, the desired singers and music bands will be found.
The Jukebox player is designed as a very simple application – there are no sophisticated functions or features. The user simply finds the tracks he is interested in and listens to them. For this purpose, the interface provides such standard buttons as start, stop, fast forward, and rewind, switching between tracks.
Additional features
The Jukebox application is distinguished by the following services:
The ability to import media from the virtual Dropbox space. If you have a Dropbox account and have music files stored there, use them in the Jukebox player and listen to them without restrictions.
Reset the application. A special button allows you to reset all existing files and playlists, some user settings, and return to the original state of the application as it was at the moment of installation.